For their next release, taking things a little deeper, LNM Records ha've recruited the two Mexicans Yeyo Deante & Yoza White, better known as the duo 'Nobody Knows', part of the exciting new breed of electronic artists that are emerging from the country. We're proud to have them join 'Love Not Money Records' with their speaker shaking 'Breakdown EP'.
With lead track 'Breakdown', the guys deliver another trademark melodic masterpiece. Hypnotic bass tones, groovy shuffled percussion and a deep haunting vocal with a real 80's feel to it makes a wonderfully warm dancefloor trip, proving once again why the duo are on the rise this year and deemed 'ones to watch' by an array of big labels.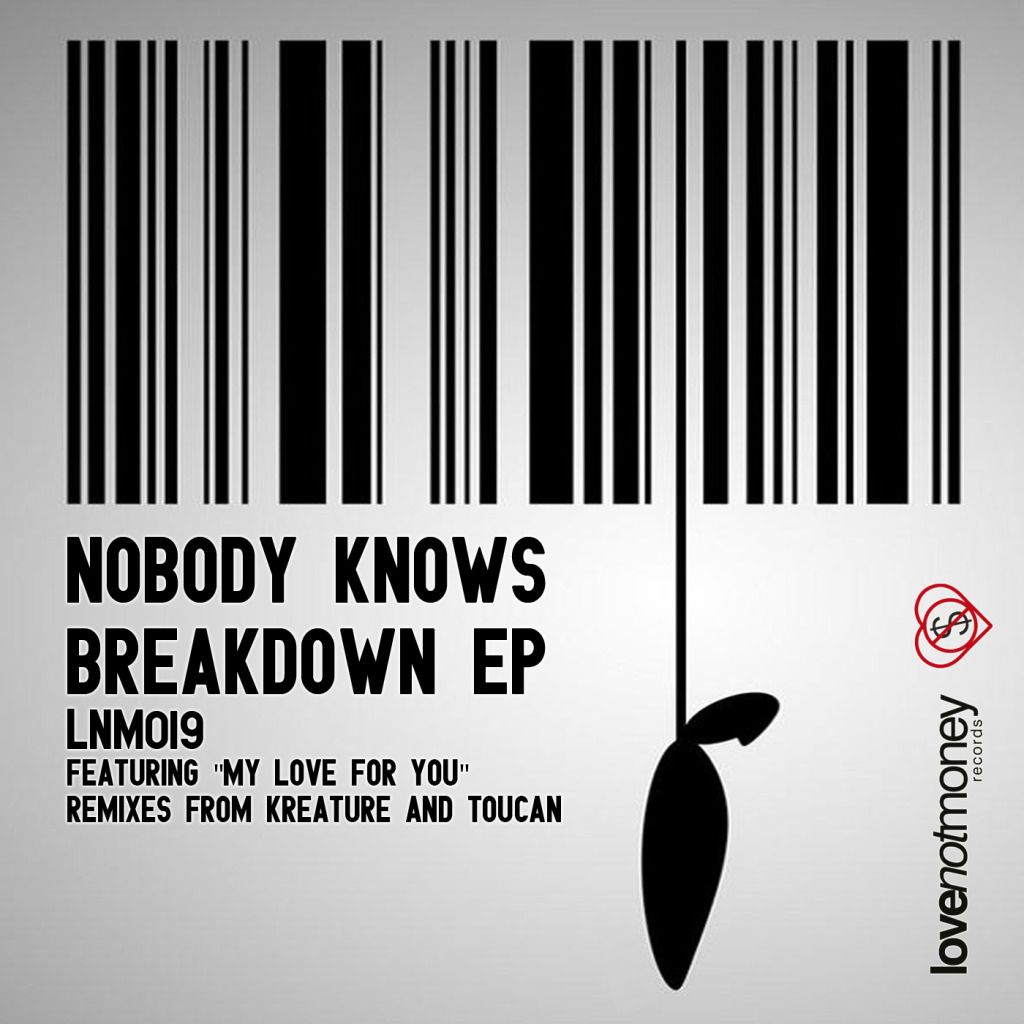 An altogether punchier and moodier rework by early LNM signing Kreature, comes in like a nighttime yin to the original's yang. Craftily using the original's vocal hook with a more subtle approach, Kreature exercise his easily identifiable style, that combines dark electronic elements with a killer driving bassline. Already his work has been recognised and supported by the likes of Art Department and the Hot Creations crew, this simmering remix pays homage to the original well yet gives fans of the more head-down style an alternative.
On the B-side 'My Love For You' grabs your attention with the instantly recognisable vocal hook from the classic 'Alright' by Red Carpet. This perfect peak time weapon is engineered to lock you in the groove with a huge bouncing bassline, spacey pads and menacing siren type stabs. This is a smash right here - best of global daytime parties be warned!
Rounding of the EP is the remix from 'Toucan'. Another duo hot on the heels of Global success, this time from the paradise city of Rio De Janeiro. These two first caught our attention with huge tracks like 'Sky' and 'Twenty-2' both of which gained massive support on the underground House scene so it was an obvious choice to ask them to do a mix for us and they have not disappointed. A somewhat more relaxed approach that utilizes the parts well while catering for a more late-night dance-floor. Stripped back and more moody than the original but still packing a mighty punch!
Released exclusive to Beatport 24th September
Released worldwide 8th October